30DaysOfXmas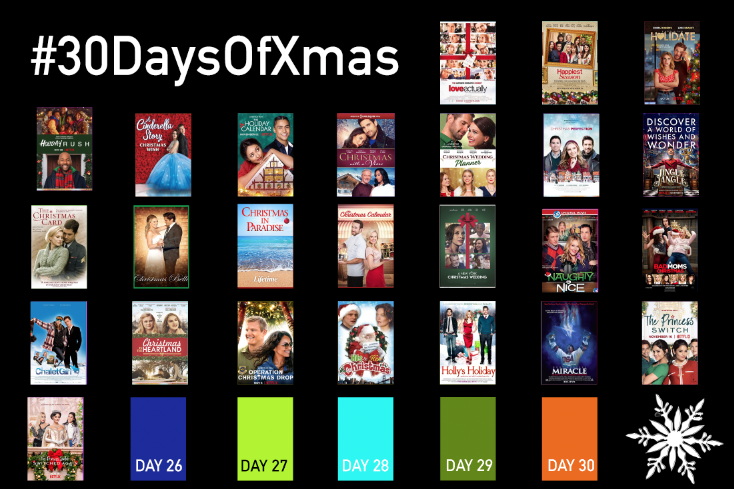 DAY 25 – The Princess Switch: Switched Again
Year: 2020
Length:97 min
Genre: feel-good, Yuletide, romance
Network:Netflix
Tagline: The story follows Margaret Delacourt, the Duchess of Montenaro, who suddenly inherits the throne to her home country of Montenaro. As her Christmas coronation approaches, she and Stacy switch places once again so Margaret can fix her relationship with Stacy's friend Kevin. Unbeknownst to both women, a third look-alike, Margaret's wicked cousin Lady Fiona, disguises herself as Margaret in a scheme to steal the throne.
Our take [*]
DAY 24 – The Princess Switch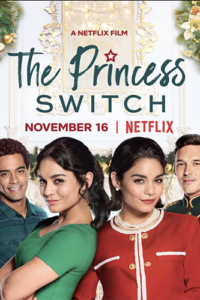 Year: 2018
Length: 102 min
Genre: romance
Network: Netflix
More on IMDB
Tagline: One week before Christmas, a duchess switches places with an ordinary woman from Chicago, who looks exactly like her, and they each fall in love with each other's beaus.
Our take [5*]
DAY 23 – Miracle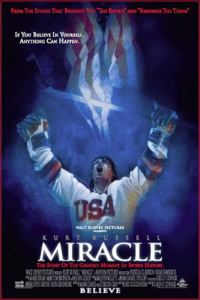 Year: 2004
Length: 135 min
Genre: sports drama, feel-good
Network: DVD
More on IMDB
Tagline: The true story of Herb Brooks, the player-turned-coach who led the 1980 U.S. Olympic hockey team to victory over the seemingly invincible Soviet squad.
Our take [5*] We haven't seen this movie in a while but remembered that it has a Christmas scene in it, with the goalie wearing a Santa costume. But that alone wouldn't quality "Miracle" to be part of our #30DaysOfXmas movie marathon. However, how the US hockey team won the 1980 Olympics in Lake Placid, that looks in hind-sight like a miracle and hence, the movie is in! Besides, the movie offers great acting (Kurt Russel, Patricia Clarkson) and a warm and feel-good story.
DAY 22 – Holly's Holiday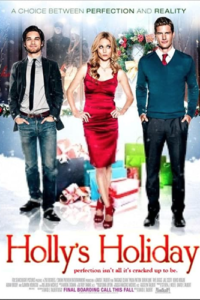 Year: 2013
Length:86 min
Genre: comedy, goofy
Network: Netflix
More on IMDB
Tagline: NYC ad exec Holly Maddux dreams of the perfect life, the perfect job, and of course, the perfect man to sweep her off her feet. When she wakes up one day to find the "perfect man" awaiting her, who is nothing more than a mannequin come to life, she must decides if "perfect" is the perfect fit for her.
Our take [4*]
DAY 21 – His & Her Christmas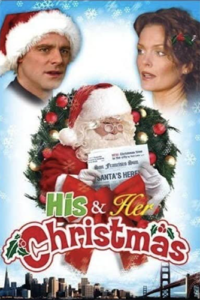 Year: 2005
Length:
Genre: romance
Network:
Tagline: A chance meeting between rival newspaper journalists with rival Christmas columns is an epic disaster–and maybe love at first sight.
Our take [3*]
DAY 20 – Operation Christmas Drop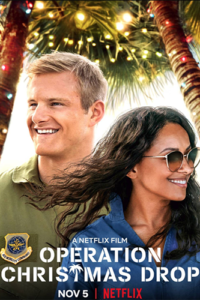 Year: 2020
Lenght: 96 min
Genre: romance
Network: Netflix
More on IMDB
Tagline: Erica is a congressional assistant in Washington, DC. She is tasked with investigating a US Air Force base in Guam with the intention of finding a reason to recommend its closure. Andrew is an Air Force commander, and he is chosen to show her around the USAF base and convince her that it should remain open. The base has a yearly tradition of airlifting goods to the citizens of Guam for Christmas. Andrew shows Erica around the base and various islands and demonstrates that the tradition is worthwhile and the base should not be closed. The romance between Erica and Andrew blooms during these events.
Our take [5*] Give us nice weather, a dreamy location (there's a special term for this type of movie!) and a romance where not only the sparks fly but set in an interesting story, and ready is the perfect movie! The holiday spirit was also balanced beautifully. Fans of the 2004 super hit "Sideways" might get a kick out of seeing Virginia Madsen playing the no-nonsense congresswoman who sends Erica the tropics.
DAY 19 – Christmas in the Heartland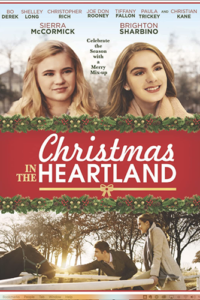 Year: 2018
Length: 111 min
Genre: teen movie, drama
Network: Netflix
Tagline: Kara and Jessie are two teenage girls from very different worlds, but with a little Christmas magic, they find they have much more in common than they imagined.
Our take [3*] From the trailer alone we knew that this would not be our new favorite movie but it had a nice base story, with a pleasing ending and the two young female protagonists made the movie worth while watching. And seeing Shelley Long of Cheers fame in a feature was a nice added bonus too.
DAY 18 – Chalet Girl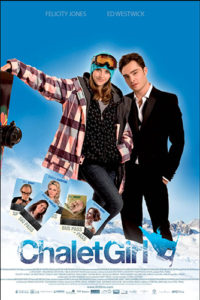 Year: 2011
Length:
Genre: romance
Network: Prime
More on IMDB
Tagline: Former skateboard champion Kim wants to make more money after her mother's tragic death. She joins the elite posh servicing company, which sends her off to Austria.
Our take [5*]"Chalet Girl" to the rescue, a movie we knew we'd enjoy. It also is not very Christmassy but it is set throughout the holidays and we love all the actors involved! Added bonus: some of the snow scenes were filmed in my birthplace in the Alpes, gives me warm and fuzzy feelz despite the snow!
DAY 17 – A Bad Mom's Christmas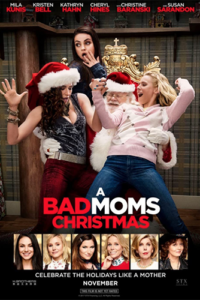 Year: 2017
Length: 104 min
Genre: comedy
Network: Netflix
Tagline: A Bad Moms Christmas' follows our three under-appreciated and over-burdened women as they rebel against the challenges and expectations of the Super Bowl for moms: Christmas. And if creating a more perfect holiday for their families wasn't hard enough, they have to do all of that while hosting and entertaining their own mothers. By the end of the journey, our moms will redefine how to make the holidays special for all and discover a closer relationship with their mothers.
Our take [0*]: We did not think that we'd have to endure a movie worse than "Christmas Wedding Planner" but "A Bad Mom's Christmas" takes home the questionable price of being the worst holiday movie. There is just so much wrong in that piece of terrible (and lazy!) screenwriting which makes this a complete disaster and mood killer any time of year.
DAY 16 – Naughty & Nice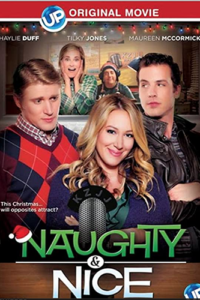 Year: 2014
Length: 90 min
Genre: family, comedy
Network: Hulu
More on IMDB
Tagline: When a cynical Los Angeles DJ is exiled to a quaint mountain town for the holiday season, the small-town charm and holiday cheer—not to mention his pretty new co-host—begin to melt his icy demeanor. The two have an entertaining repartee on-air that enthralls the town, and eventually leads to sparks between them that they can't deny.
Our take [4.5*]
DAY 15 – A Christmas New York Wedding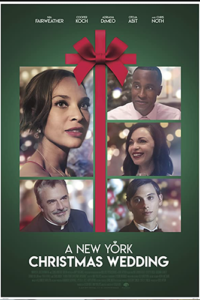 Year: 2020
Length: 89 min
Genre: romance, miracles
Network: Netflix
More on IMDB
Tagline: As her Christmas Eve wedding draws near, Jennifer is visited by an angel and shown what could have been if she hadn't denied her true feelings for her childhood best friend.
Our take [4.5*]We were delighted to find out that there's yet another new movie about a Lesbian couple and after "Happiest Season," our expectations were set low. However, with Chris Noth starring as Father Kelly and acting as an executive producer, the movie was off to an intriguing start. Yes, one must eat up the miracle element and allow going back in time and all that Christmas movies jazz, but it is worth it. The movie plays not only in New York but in Queens and that alone was worth watching it. Together with a compelling and touching story, this will be put on the keeper shelf.
DAY 14 – The Christmas Calendar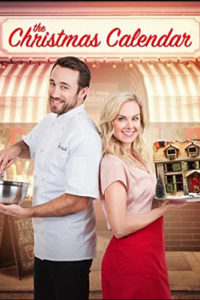 Year: 2017
Length: 84 min
Genre: romance
Network: Hulu
Tagline: When Emily, a small-town baker, receives a Christmas Calendar from a secret admirer, it attracts the attention of the locals. With financial problems looming, the calendar turns out to be a Christmas miracle for Emily and the bakery.
Our take [3*]
DAY 13 – Christmas in Paradise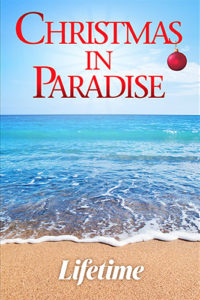 Year: 2007
Length:89 min
Genre: romance
Network: DVD
More on IMDB
Tagline: Two berieved families disembark on a cruise to San Juan in celebration of Christmas.
Our take [5*]: Another staple in our holiday movies chest, which gets better and better with every viewing. What the movie gets right is the bond between families and our obligation to continue living a happy and fulfilled life. The holiday spirit is also beautifully captured.
DAY 12 – Christmas Belle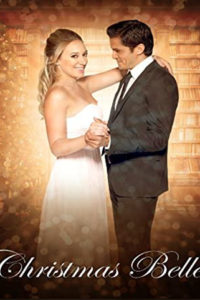 Year: 2013
Length:87 min
Genre: romance
Network: Hulu
More on IMDB
Tagline: Belle is sent out of town on business just before Christmas to catalog the estate sale of a large mansion for her auction house. As Belle gets to work, the job is a dream, but the client, Hunter is not. Belle and Hunter spend more time together, though, and his icy demeanor begins to melt. Things get complicated when Belle's long-time suitor Tony shows up, sending Hunter the wrong signals. It's definitely going to be an interesting Christmas, but what will the New Year bring?
Our take [3.5*]: We can not ever say 'no' to the Beauty and the Beast trope and while certainly not flawless, we embrace the wine country beauty of the cinematography, and the overall very festive vibe. Hailey Duff and Nicholas Gonzalez are very loveable too.
DAY 11 – The Christmas Card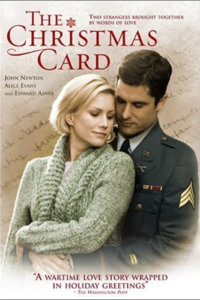 Year: 2006
Length: 84 min
Genre: romance
Network: DVD
More on IMDB
Tagline: A soldier serving in Afghanistan is deeply touched by an anonymous Christmas card sent by a woman in California. Upon completion of his tour of duty, he returns to the United States on a romantic mission to find the woman who wrote the card.
Our take [5*] This is a staple in our yearly must-watch-list ever since we first watched it, fifteen years ago. It might also be the most "Christian" move of them all on our #DaysOfXmas list but that's fine with me. While the rich, successful wine salesman is portrayed a bit too over the top, and the meddling of the two brothers in Hope's life is a bit too much, it's the warm and fuzzy feeling that makes this movie work for us. Like watching a new episode of The Waltons, with the lumbermill, the family values, the community XXX, and the big heart.
DAY 10 – Jingle Jangle: a Christmas Journey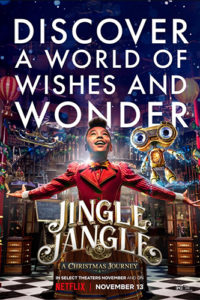 Year: 2020
Length:119 min
Genre: feel-good, family
Network: Netflix
More on IMDB
Tagline: An imaginary world comes to life in a holiday tale of an eccentric toymaker, his adventurous granddaughter, and a magical invention that has the power to change their lives forever.
Our take [5*]: Initially, we were very hesitant in even including "Jingle Jangle" into our list but we are more than glad that we did because this is one delightful feel-good movie not to be missed! Great acting, heartwarming story, and with just the right amount of Christmas sprinkles and holiday cheer.
DAY 9 – Christmas Perfection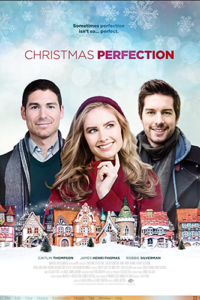 Year: 2018
Length: 89 min
Genre: romance
Network: Hulu
Tagline: Darcy's been striving for the perfect Christmas since childhood and, thanks to a magical figurine, her dream finally comes true.
Our take [3*]: Actually, we shouldn't put a verdict out as we fell asleep half way through the movie. However, it was nice and entertaining enough until then. Since we're on a movie-marathon though, there's no time -or desire- to watch its ending. Maybe another time.
DAY 8 – Christmas Wedding Planner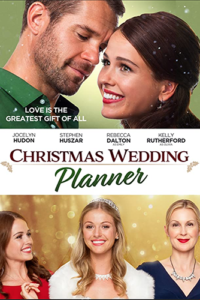 Year: 2017
Length: 86 min
Genre: romance
Network: Netflix
Tagline: A wedding planner's world is turned upside down when a handsome private investigator is hired to disrupt one of her biggest jobs
Our take [1*]: Only 86 minutes long, the emptiness this movie leaves behind feels more like three hours of totally wasted time. Since this movie is made "after a Harlequin romance," our guess is that they simply took a novel, and thought by equipping the movie set with holiday decorations, this will be festive. But no, this is not enough! As an avid reader of romance novels, I know that it is the Christmas Wedding Planners of this world that give the genre its reputation as "silly fluff." And don't get me started about this story's ending…
DAY 7 – Christmas With A View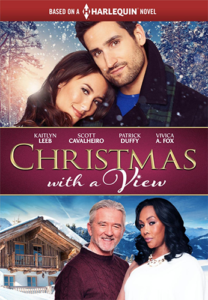 Year: 2018
Length: 91 min
Genre: romance
Network: Netflix
More on IMDB
Tagline:
Still reeling from a business failure, the restaurant manager of a ski resort finds her world jolted by a new chef, who has his own hidden past.
Our take [4*]: While not flawless, we enjoy the holiday-inspired take on managing a restaurant, running a kitchen, and falling in love. The likeable actors do their part too.
DAY 6 – A Holiday Calendar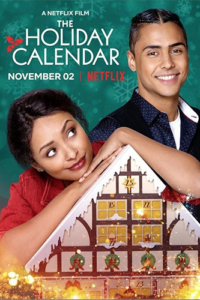 Year: 2018
Length:  95 min
Genre:<heartfelt, romantic
Network: Netflix
More on IMDB
Tagline: A talented stuck in dead-end job inherits an antique advent calendar that may be predicting the future and pointing her toward love.
Our take [4*]: We dig the enchanted holiday calendar that somewhat predicts the future via its daily presents. The romance between the two main protagonists might be a bit cheesy but that just goes with the flow of most holiday-inspired romances.
DAY 5 – A Cinderella Story: Christmas Wish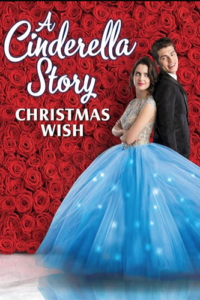 Year: 2019
Length:  85 min
Genre: goofy, romantic
Network: Netflix
More info on IMDB
Tagline: An aspiring singer is stalled on her path to success by her stepmother and two wicked stepsisters. When she starts working at a job to help her dreams come true, she starts to fall for the handsome new Santa.
Our take [5*]: We watched it for the first time and were hoping for an okay movie, yet were surprised to find a highly entertaining and well-made movie. The scriptwriter, director, and cast managed to put a new spin on an old and proven trope. Lovely fluff with surprising truth ("I can not make you a star but I can help you to get out of this mess".) and a lot of heart.
DAY 4 – Holiday RUSH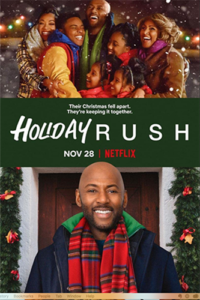 Year: 2019
Length: 94 min
Genre: family, feel-good
Network: Netflix
More on IMDB
Tagline: After being fired, a radio DJ moves in with his aunt, bringing along his four spoiled children.
Our take [5*]:  We knew we would like the movie given its stellar cast! Darlene Love anyone? However, the script, flow, and heart of the story surpassed our expectations. While certain areas were glossed over, the story was still very well done and worth watching again. Next year.
DAY 3 – Holidate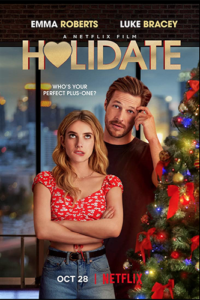 Year: 2020
Length: 104 min
Genre: romantic, comedy
Network: Netflix
More on IMDB
Tagline: Fed up with being single on holidays, two strangers agree to be each other's platonic plus-ones all year long, only to catch real feelings along the way.
Our take [4.5*]: We were very pleasantly surprised by how much we enjoyed this romantic comedy. It didn't just focus on the holiday season but followed the protagonist through one year, leaving much more room for them to get to know each other and to ultimately fall utterly in love. This is one to watch again next year or the year after.
DAY 2 – Happiest Season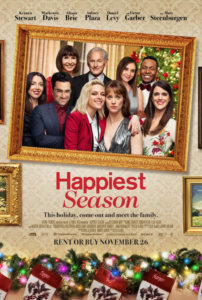 Year: 2020
Length: 102 min
Genre: coming out story
Network: Hulu
More on IMDB
PREMIERES on 11/25 on Hulu – "The script shows a sharp eye for humorous character detail, so we get a clear sense not only of how much Ted's political ambitions consume the family but also how much Harper and her two sisters have grown up competing to be the golden child of parents who place an inordinate importance on appearances." Hollywood Reporter
Our take [3]: Admittedly, the fact that Kristen Stewart starred in that movie was reason enough to looking forward to watching it and doing so shortly after its official release. What did not work for us and hence only 3.5 was the relationship between the two main protagonists. Harper, Abigail's girlfriend, is an incredibly toxic person and in it was not clear how they could have been in love together in the first place. Throughout the movie, Harper did things you just don't do to your friend, regardless of sexual orientation. The star-studded cast can not save the mediocre albeit well-meaning script.
DAY 1 – Love, Actually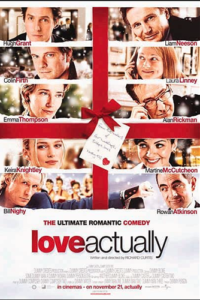 Year: 2003
Length: 145 min
Genre: love in all its forms
Network: DVD
More on IMDB
Nine intertwined stories examine the complexities of the one emotion that connects us all: love. Among the characters explored are David (Hugh Grant), the handsome newly elected British prime minister who falls for a young junior staffer (Martine McCutcheon), Sarah (Laura Linney), a graphic designer whose devotion to her mentally ill brother complicates her love life, and Harry (Alan Rickman), a married man tempted by his attractive new secretary.
Our take [5*]: Easily the oldest movie in our #30DaysOfXmas mix, "Love, Actually" has served as the poster child for so many other creations be it for TV, the big screen, or for a novel. Richard Curtis is the gold standard for romantic comedy because nobody does it better aka with more heart AND wit than this British screenwriter/director.