Q&A with Slye
Sometimes one song is all it takes to make a lasting impression and spur curiosity and deeper interest! "The Mirror" by songwriter, guitarist, and singer Slye is such a magical song. Yet all of Slye's R&B and funk-inspired, soulful music offers this magnetic pull and stunning beauty, and that's why we reached out to the Liverpool-based artist with some of our most burning questions.
To get an idea what Slye sounds like, listen to "Into Colour". More about this track later:
Thank you for taking the time to speak with us. Can you tell us a little about your beginnings in the music world? 
Of course, Elke! You've been supportive of my music since the early days and for that I can't thank you enough.
I was drawn to music from a young age but I never saw it as being my way of life until I was older. I started playing instruments from a young age but I became more serious after picking up the saxophone at 11. Gradually I found the guitar at 13 and that is what truly started this journey. 
I've always found myself gravitating to 'groove' music. Whether that was bluegrass, metal or indie. But once introduced to 'funk' and all of its spin-offs, then it was game over. The sheer power behind the music is just inimitable. This naturally led me to Prince and I just couldn't believe it. Up until that point I didn't realise music could be communicated in that way. Completely raw and untethered but with style, grace and technique. After that, my decision to carve myself a path on the well-worn road of music really began.
You are a great singer and guitarist. What came first: singing or playing guitar? Or maybe a different instrument?
The guitar has always resonated with me and was my first love. I consider it an indistinguishable part of myself, completely integral to the music. If it's not in my hands I feel as if a part of me is missing. I committed myself to hours and hours of practice in my teens and still schedule time everyday dedicated to practice.
Singing was a different story and my journey as a vocalist is an unusual one. Before university I was a member of quite a few bands but we could never find a reliable singer and so I thought I should step up to the mark, but I couldn't bring myself to sing publicly. As a person, I naturally lean towards introversion and singing seemed too personal and exposing.  
Then, as if a gift descended from the heavens, I came across an artist whose vocal expression, talent and delivery completely eroded from me any sense of doubt or self-consciousness. I just knew that I wanted to have the same ability to communicate in such an authentic and sincere way. To this day I've kept the artist private and while their work deserves to be promoted, I believe sometimes music is so personal that it doesn't need to be commodified or shared.
Your vocals are not only incredibly beautiful but also very recognizable. How did you get to this level? Have you worked with a vocal coach or the likes?
That's very kind of you to say, thank you. Singing was a difficult journey for me. I didn't start until I was 17/18 so I'm a little late to the party compared to other singers in the industry at my age. I'm not a naturally gifted singer but I have got to this level from consistent and repetitive practice and a knowledge of singing as a mechanical system rather than natural phenomena.
I was incredibly fortunate to find a vocal coach, Anthony from ATEK, who I can probably attribute the majority of my ability, not only as a singer, but also as a performing musician.  Anthony understood how to help me overcome my insecurities with singing and taught me as if I was learning an instrument. How to understand the anatomy of the system that produces the sound and how to manipulate this system by technique and practice.
Anthony also supported me by introducing me to playing open mic nights all across our hometown of Northampton and provided me with the foundations that I am trying to build my career upon now. It's hard to describe my gratitude towards the support he gave me.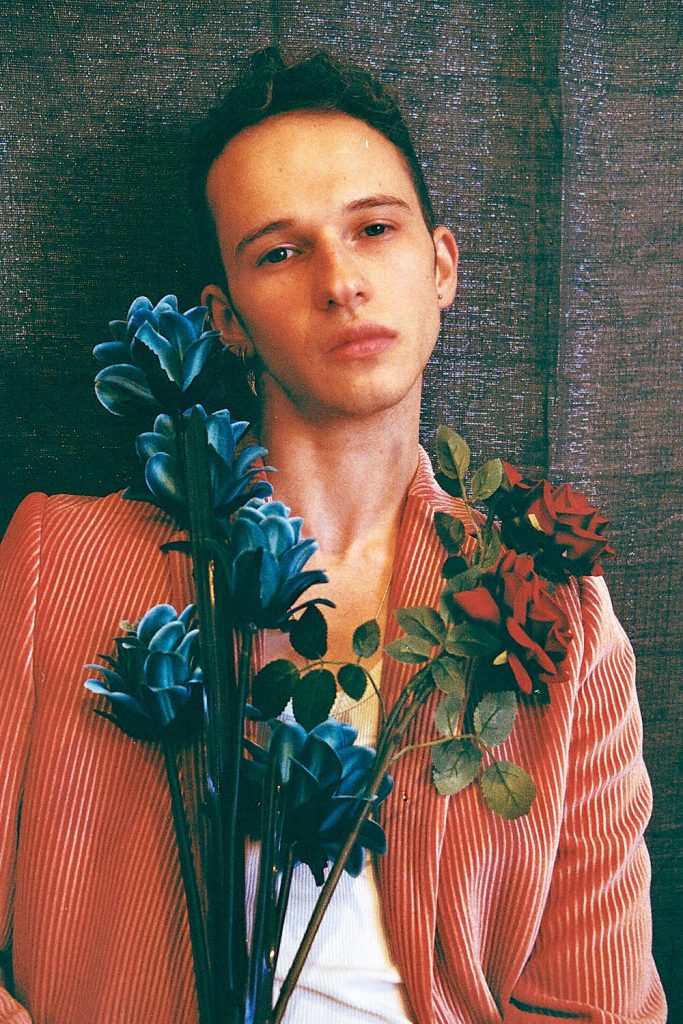 We noticed you first as a member of the band PANGEA and now you are making music as Slye. Is this your musical direction or are you planning to work on multiple projects?
PANGEA seems like a lifetime ago. The boys and I decided to part ways once university finished as the other members wanted to pursue different career paths so now this is my main musical outlet. 
I enjoy working as a solo artist and having control of all of the expression within my recorded music but I always make sure to make use of others abilities in a live context when possible. I have an excellent live band working with me, Green Tangerines, and we play across Merseyside and hopefully looking to expand further. The Tangerines are top musicians and know what they're doing so it would be detrimental to the music if I  suffocated their ability by dictating their exact parts. So while I write all the music, I give it to them as a box to work within and they're free to colour within the lines however they choose.
I also work with another artist, Douglas Savage who is very different from my solo work, with spoken word poetry interspersed between melancholic ballads. We've got a pretty good live set up and it's shaping up nicely.
In your live video for "Waiting" you and your band members had a noticeable distance to each other. Was this intentional and caused by the pandemic? Or clairvoyance?
I had never actually noticed that before. I know it's hard to believe but there once was a world in which social distancing didn't exist and thankfully we recorded in that reality. The live music we play can be quite improvisational and I enjoy calling things on the spot so we're all pretty tuned in with each other. 
We did the video at Zooniverse in Liverpool who are a great team and are doing big things for the Liverpool scene.
What song of yours would you recommend to someone who has never heard you before? Why?  
I'd say 'Into Colour'. I've spent years trying to find the line between all of my unique inspirations where originality lies and I think 'Into Colour' is my best attempt so far.
The lyrics for 'Into Colour' feel like a good balance between content and melody. Sometimes I can get a bit wordy and the phrases can feel too compressed, but here I think I found a balance between the narrative, bookish lyrics I enjoy writing and melody.
Also, the guitar part is funky as hell.
"The Mirror" is my top favorite song of 2019. Hands down. Can you give us a clue what it is about? 
That's very touching It's a strange feeling to think that something that came from a place so personal, can resonate across the world with someone else so strongly.
I wrote 'The Mirror' when I was 21 and at a time when the future was unclear and my direction uncertain. 'The Mirror' was intended as an affirmation of my decision to pursue music and what that would entail. 
It was an acknowledgment of the sacrifices I knew I was going to have to make if I wanted to pursue music seriously. "I'm scared of what I might do to you" wasn't aimed at anyone but a message to myself about what I might become, what shapes I'd have to contort myself into for success, and would I go too far?
"You burn like the smoke in the back of my brain" / "I'm the weight when your arms are too weak" are all about the unceasing burden of meaning. As a musician, and I imagine this is true with other artists, you find yourselves constantly thinking about how to manifest this creative spirit within you. No matter the situation, you're on the lookout for inspiration or purpose and that's not always a good thing, it can become overburdening.
Retrospectively, maybe I'm not as supportive of that message as much now. The more progress I make the more I realise that, yes I'll have to make sacrifices but they shouldn't come at the cost of changing who I am. If I have anything to offer an audience that is entirely unique, it's being organically myself.
Let us think of better times ahead! What is one of your favorite venues in Liverpool to play at? Where should we come see you? (And Liverpool is definitely high on our list!)
I always enjoy playing at Jacaranda Phase One, it's an excellent venue ran by brilliant people and I know they have big plans and goals ahead of them to keep pushing Liverpool into its rightful place as the Capital of music in the UK.
The outbreak has put many Liverpool venues in jeopardy and I know many have started Crowdfunding to keep them going. With the sad closure of Sound on Duke Street, the first venue the full Slye band played in, I hope that the city can recover and we can see better times ahead.
Live video from Friday, June 20th, 2020
Something we love to ask every musician/band: If you could choose to live in a decade (music, style, etc.) which one would it be? 
70s. Always the 70s. It was when James Brown moved onto the One and we saw the flourishing of funk music. Sly and The Family Stone, Parliament Funkadelic, Prince all started their funk odysseys in the 70s. While I know Sly and Funkadelic were going in the 60s it was the 70s where their style blossomed into their completely unique and individual style.
It's the characters of that era that I feel connected to also. This was a time when the artist and music were one. The artists were manifestations of their music with flamboyant showmanship, outrageous outfits and intergalactic personalities, the 70s produced artists so original and unique, I still find myself in awe. 
Before that 80s disconnection of prog-rock and 10s indie where the artist and audience were tangibly divided, 70s artists seemed to provide this direct connection between music, artist and audience. I've seen Parliament Funkadelic 4 times now and each time the connection at those shows are unlike any other.
Thank you very much, Slye. What a joy to learn a bit more about what drives and fascinates you, and how your career in music developed. We wish you the strength of staying true to yourself while making lots of new fans and playlist adds. When live shows are happening again and traveling is an option again as well, we hope to see you packing Jacaranda Phase One (or another venue) and we will be there!
Connect with Slye on Facebook, Twitter, and Instagram, subscribe to his YouTube channel, follow him on Spotify, and listen to more of his beautiful music. An EP is the making too, with a tentative date for later this year. We will keep you posted!