SONG PICK: Jack Conman – Come Back In The Room (Video Premiere)
"Come Back In The Room" is a wistful song about the heartbreak that ensues when a relationship ends and exquisitely captures the powerlessness of not being able to change the person's mind who is walking out the door. It is the latest single by Manchester-based singer/songwriter Jack Conman, who gave it a visual treatment, that is as simple as it is splendid, which he filmed and directed himself. We are excited to premiere the marvelous music-video today and asked the creative artist to provide us with some insight.
About the process, Conman says:
"I made the video with a £0 budget in my front room at home, the only thing that I paid for was the veggies. I spend quite a lot of my time cooking and whipping up salads so I wanted to show off my culinary skills and make something that juxtaposed the seriousness of the song. It's a dramatic song and I was thinking about making a serious, dramatic video to go with it. But that just felt a little bit out of character for me, to represent that visually, so I made this instead."
This juxtaposition works so well because it illustrates the strong and plentiful feelings that go with heartbreak. At times these feelings can be so overwhelming that the situation seems comical even, as shown throughout the video. For example the pierced eggplant should not go uncooked into a salad or eaten raw, but let's put any food safety concerns aside.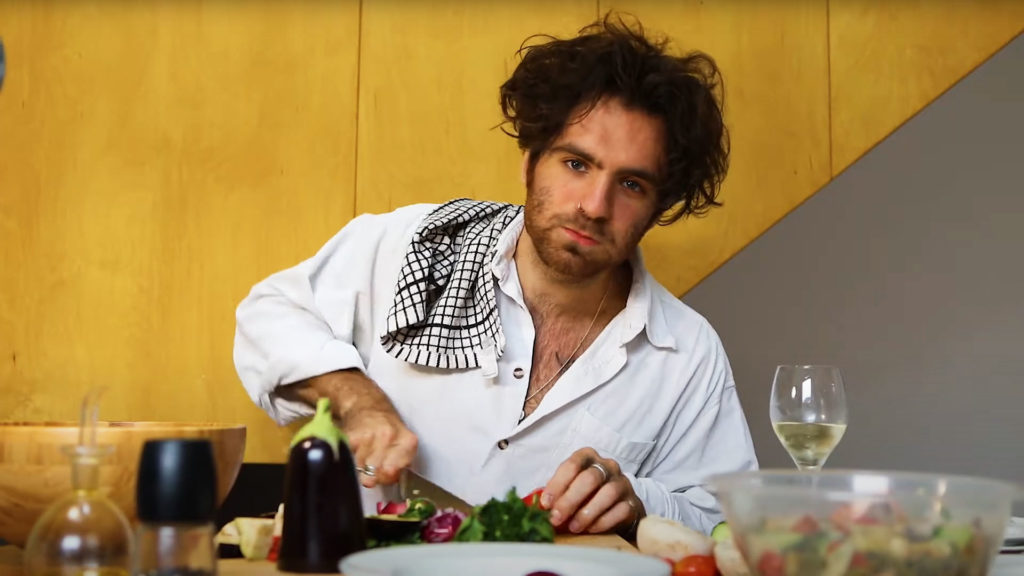 When we watched "Come Back In The Room" for the first time, a famous quote came to mind: I love to cook with wine. Sometimes I even put it in the food, which indeed comes rather close as Conman acknowledges:
"Making the video was quite easy, I set up a static camera and started chopping and drinking wine, I actually got quite drunk which I think helped add to the chaos."
Memories that once were meaningful and brought joy now offer nothing but pain. Conman reveals further:
"The song is about not being taken seriously by someone and being almost shunned and suppressed for having certain feelings and opinions. I wanted to play off the functionalist ideas of cooking homemade meals for your patronising, oppressive husband as he arrives home from work, only to be met by a completely clueless, drunk bloke with a load of veg."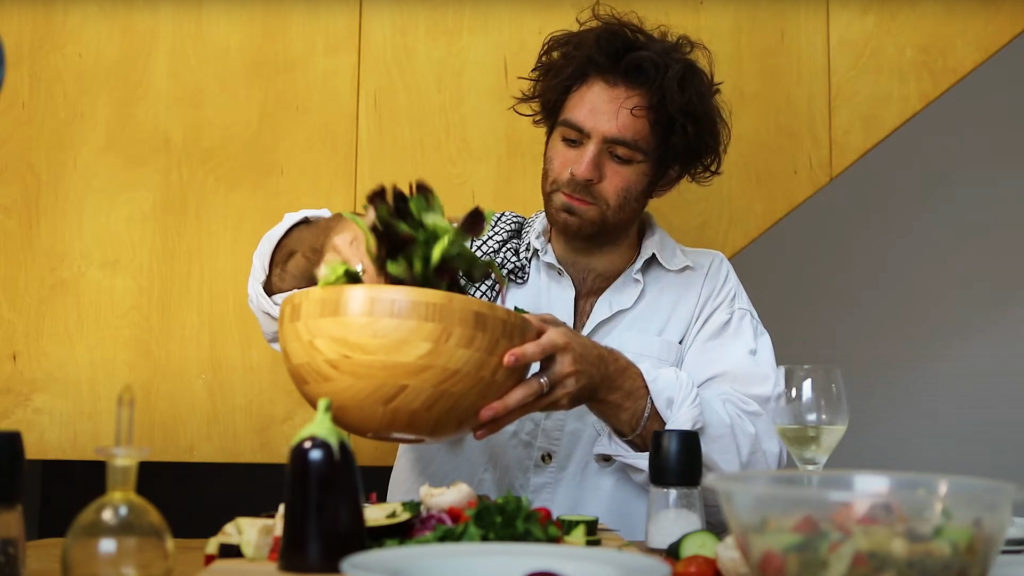 Maybe we can get a peek behind the music video, learn more about The Making Of? Turns out, the fun of being creative with food comes with a price, as Conman explains:
"The biggest issue I faced with making this video is cleaning up the mountains of veg that I'd dropped on the floor from over enthusiastic chopping. I keep finding mouldy bits of mushroom and peppers in my living room that have flown behind furniture. I woke up with a slight hangover the next day to edit it together on my PC. There was a lot of footage but I'm very pleased with how it turned out."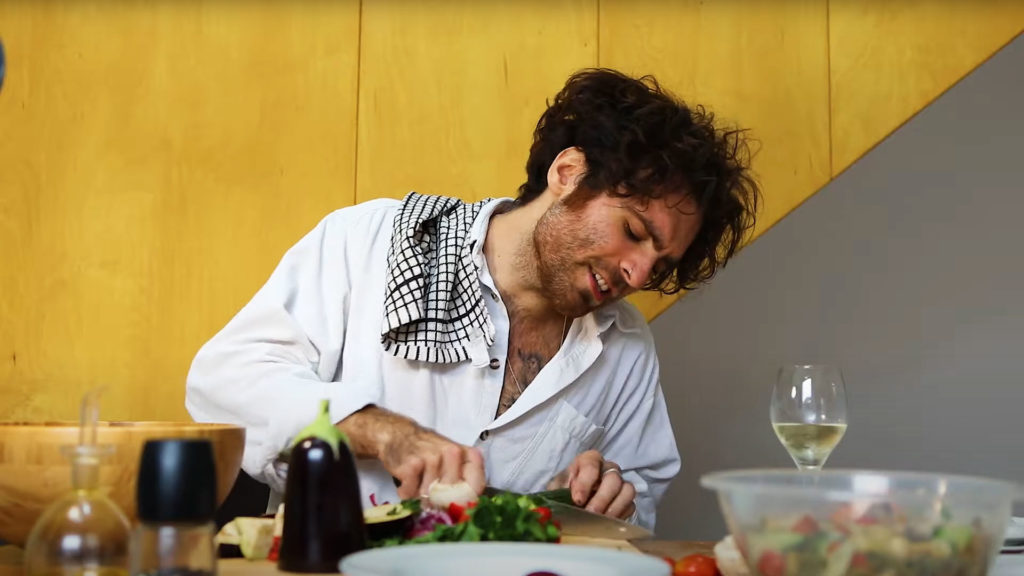 Absolutely! Reason to be more than just "pleased" because with its unpretentious idea and stellar execution "Come Back In The Room" is not yet another one-person pandemic video born out of necessity but something to truly enjoy. We hope that Jack Conman can fix a salad for a significant other again soon and are looking forward to his upcoming self-produced debut album "Seventh Sense Libido" out later this year.
Watch the lush video "Come Back In The Room," which we are excited to premiere:
Connect with Jack Conman on Facebook, Twitter, and Instagram and add "Come Back In The Room" to your playlist as we are adding it to our glamglarepick playlist on Spotify: