Q&A with I See Rivers
I See Rivers is the trio of Eline (keys, vocals, percussion), Gøril (guitar, vocals, drum pad), and Lill (drums, vocals) from Norway, who met in Liverpool and are spending now much of their time in Wales. They have just released their debut album "Deep & Rolling Green," a diverse collection of 16 songs that make it hard to put them into a specific genre.
Listen for yourself on Apple Music, Spotify, or below on Bandcamp:
Eline, Gøril, and Lili, how did each of you get into making music? Norway has a great music scene – do you recall specific role models?
Here's three musicians that have inspired us to make music <3
Gøril: Aurora
Eline: Susanne Sundfør
Lill: Ane Brun
Who had the idea to form a band? Do you remember a specific moment when I see Rivers was founded or did it happen more gradually?
So, Lill and I (Gøril) actually started playing together as a duo! All three of us lived in Liverpool at the time, and Lill and I went to see Eline play a solo gig. We both thought Eline's performance was fantastic, and asked her if she wanted to start a band with us! Luckily she said yes, and I SEE RIVERS was born.
You three met at the Liverpool Institute of Performing Art, which has a very low admission rate. By that measure, one could say you are the best-educated band out there. Did this open doors?
We don't really know how to answer this one, but all we know is that if we had not gone to LIPA and moved to Liverpool, we would never have met as we're from such different places in Norway. So, WE'RE SO HAPPY we did go to LIPA, and did meet each other!
How do I See Rivers songs come together? Are you collaborating in equal parts, or does each of you have specific roles in the process?
Earlier we wrote a lot together. Usually Gøril had a guitar riff, or Lill had the start of a lyric or song, and then we just sat down and wrote the whole song together. Then we normally started making vocal harmonies to a very simple guitar arrangement, before we added the rest of the instrumentation. That way, we could play our songs with our full set up, or with just a guitar. Singing together was also what made us excited – did you know that, it's been said that if a group of people sing together, our heartbeats start to sync <3 Regardless of the assertion, we definitely connect with each other when singing together.
For our debut album, we've actually written separately from each other. We've used dropbox, sending songs back and forth. So, somehow we've all had the chance to connect with each song from the start. But, we didn't play and sing the songs together until we got together in the pre-production of the album!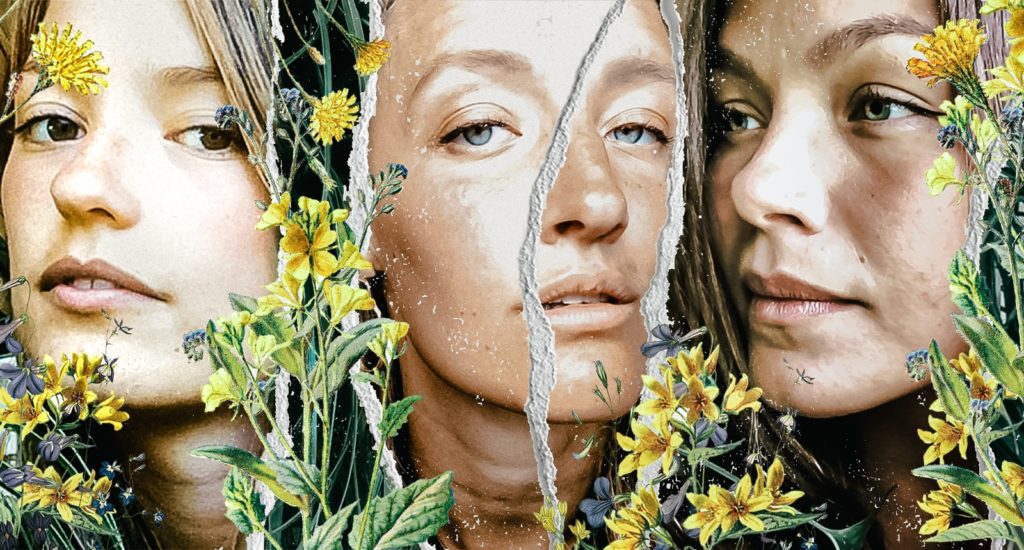 At glamglare, we see many musicians come from Wales, your second home. Are you part of a music scene there? Are there other Welsh artists you are collaborating or just hanging out with?
Yes! We moved to Wales after falling in love with both the land and the people during the recording of our first EP. We just felt like coming home that very first time we went to Wales, so we just kept going back, I actually think we went from Liverpool to Wales about 6 times in one year. Then we thought, maybe we should just move there?
So we moved to Tenby, and was immediately embraced by the Welsh music scene. BBC Cymru/Wales had this programme called Horizons where they supported a handful of artists in the Welsh music scene for a year, and as the biggest welcome, we were asked to be one of these artists! What meant the most to us, was that Wales immediately welcomed us as a part of the music scene.
We also have very good friends in Wales, and a lot of them are in the music industry somehow. The whole reason why we got to know Wales and Pembrokeshire, was because of Owain Jenkins, owner of Studiowz, who (amongst other friends) we've recorded both our EP's and now our debut album with (OUT 2nd October!!). The amazing singer songwriter Jodie Marie is also one of those who makes Wales feel like our home (she's just released the first single from her coming album!).
It is hard to talk about touring right now, but do you see a chance that we could see you in New York one day? Or maybe meet half-way at Iceland Airwaves?
Oh, let's talk about touring! We miss it so, so, much. We haven't played together for 8 months – so we are very ready for New York and Iceland Airwaves (we would love to come, anyone got a stage to offer? Or a garden? Or a rooftop?).
Last question: while your music feels very contemporary, is there any past decade that inspires you artistically?
We all listen to a lot of new music, and as there's three of us, we do listen to quite different music as well. But, when we're all together we sometimes visit the late 1960s / early 1970s to listen to Joni Mitchell's "Ladies of the Canyon" and "Blue", and Nick Drake's "Pink Moon".
Thank you, Eline, Gøril, and Lili. We have "Deep & Rolling Green" on repeat here and crossing our fingers for Airwaves 2021.
Connect with I See Rivers on Facebook, Instagram or Twitter.