The Darcys Talk With Us About Their New Album Fear & Loneliness
We became fans of The Darcys in 2014 when we saw them live twice, touring on the heel of their first major release, "The Warring." Formed in Toronto by Wes Marskell and Jason Couse, the duo now calls Los Angeles their home but like with their ever-evolving sound, and this might change again as well. To date, The Darcys have released four diverse and critically acclaimed albums, earning a JUNO Award nomination for 'Alternative Album of the Year,' a Much Music Video Award, and were long-listed for the Polaris Prize.
Today, The Darcys release the utterly gorgeous Fear & Loneliness, which we could not stop listening to ever since we received a press copy. Unsurprisingly, several thoughts popped up in our heads, and we wanted to connect with the duo. Much to our delight, Jason was game to answer our questions. Big THANKS! To set the mood, watch the official video to "Look Me In The Eyes," the second track on the album, and then let's dive right in:
Listening to your new album Fear & Loneliness, it becomes very quickly apparent that it follows a theme. My initial question would have been, "How does it work, you wake up one day, thinking, let's write a concept album?" By now, though, I've learned that you exchanged Toronto with Los Angeles. Do you (still) enjoy L.A.? New input for your creativity? 
Ah, if only things were that simple! We wrote quite a few songs for this album before we fully identified all of the themes, which meant that some perfectly good (and totally finished) tracks had to be left off of the tracklist because they had a slightly different DNA. From what I recall, we had tried a number of versions of "Hollywood Ending" before the current one, which set the tone for nearly everything we did after that. From subject matter to instrumentation, we used that song as a bit of a guidepost. As for our geographic influence, there's nothing quite as powerful as switching up your surroundings. Experiencing a new place is possibly the best way to flood yourself with new stimulus and inspiration.
I can see a follow-up to Fear & Loneliness, expanding further on the topics explored in this album, can you?
It has actually become a bit of a tradition for us over the years to write a companion piece following each album. Once the aesthetic and themes for a record are established it's really fun to explore them on a deeper level, or to step back and see what parts of the narrative or musical universe we missed. In this case we have a few tunes spooled up for 2021 that will likely serve as the epilogue to Fear & Loneliness.
Being a child of the 80s, I can hear some Rick Astley in, for example, "Hollywood ending," but especially in the super catchy "Too Late," and I mean this with all my admiration and love. Something you went deliberately for or something that came organically?
Did I just get Rick Rolled? No doubt we've listened to our fair share of his music, but I don't think that was an intentional influence here. We explored a bit of the 80s aesthetic on our last record, Centerfold, but I think the thing that carried through the new material the most was the idea of having a super committed vocal presence.
What's up with all the movie themes? Were you binge-watching something, or did your move to L.A. influence the way your songwriting went?
We've always been drawn to taking inspiration from film, but this time we really leaned into it. L.A. is so easy to romanticize, especially as a Canadian who has viewed it through Hollywood movies for so many years. It wasn't about pulling from a specific film, but more about exploring the highs and lows of chasing fame and fortune. Instead of letting the music and lyrics come together haphazardly, we really tried to set the mood of each song much like how film score often reinforces the emotional tone of a scene. By doing that we were somewhat freed from falling into old arrangement habits, and we started to develop the world that we wanted our character to live in.
What song of yours would you recommend to someone who has never heard you before? Why?  
For me it would be "Too Late," which feels like a bridge between Centerfold and Fear & Loneliness. We've had a lot of fun making upbeat danceable music in the past, and this song feels like a step into our new universe of presenting retro influences in a modern and clean way. Also this tune just has all of my favourite things, a funky bass line, big vocal harmonies, and lots of strings.
Let us think of better times ahead! Although you've might have left Toronto for the time being, what is one of your favorite venues in Toronto to play at? Where should we come to see you? As soon as travel is possible again, we'll be there! 
We actually just learned that one of our favourite venues in Toronto, The Mod Club, has shut down. We played many memorable gigs there, and feel like it is a part of The Darcys' story, so it is sad to see it go. For all of the amazing music coming out of the city, the number of great venues is dwindling. That said, we hope to be playing at The Danforth Music Hall soon!
Something we love to ask every band: If you could choose to live in a decade (music, style, etc.), which one would it be? 
There's something about the late 60s and early 70s that is so attractive. The clothes, the cars, and no cellphones!
I think the deep and sensual "Chasing The Fall" is my favorite song on the album, among eleven favorites! Do you think you'd play it live once this is possible again? And should this not be the case, which other songs on the album can you not wait to perform in front of a live audience?
We were playing "Chasing The Fall" regularly before the pandemic, which was always a highlight of the show. We often play it with a big Pink Floyd-esque outro and get totally carried away. The music video for that song, directed by Emma Higgins, perfectly captured the tone and feel of the tune, which really adds a deeper connection to the song. Whenever we play it I'm transported in my head to that experience, which always super fun.
Thank you so much, Jason, for answering our questions. This a lot of fun, and together with your beautiful album, especially welcomed in this trying time! We hear you, no cellphones, and no social media either… We hope to see you and Wes live on stage again soon. Fortunately, until then, we have many other possibilities to enjoy your heartfelt and inspiring music.
Connect with The Darcys on Facebook, Twitter, and Instagram. Find them on YouTube, and listen to the album on Spotify, SoundCloud, or Apple Music: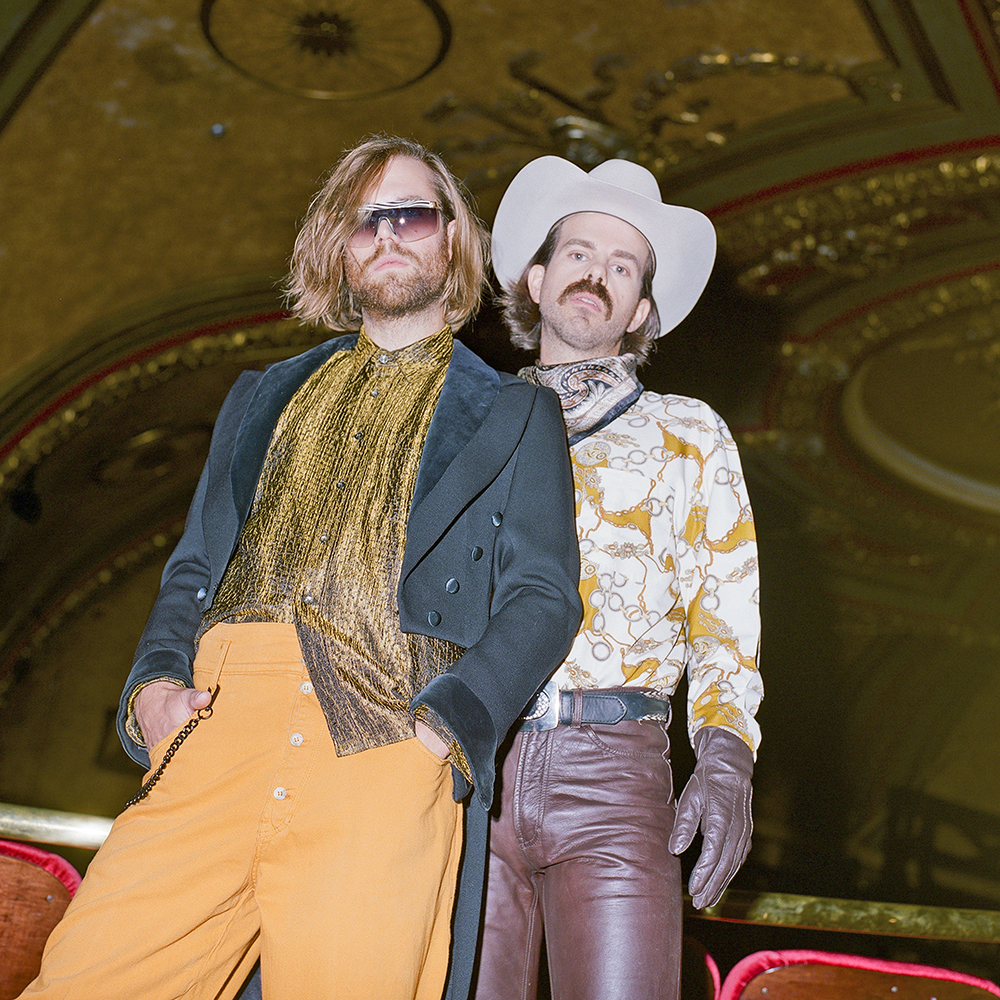 Photo credit: Maya Fuhr