talker's world of videos
Creating music videos is a tricky endeavor. On the one hand, you need them because so much music is consumed via YouTube. On the other hand, they can become expensive, and it is not easy to come up with an idea that is neither boring nor too distracting and on top of it engaging.
For some excellent examples, look no further because talker has you covered. Behind the moniker is Californian singer/songwriter Celeste Tauchar, and while her clips look effortless, making them was anything but.
Celeste was so kind to give us a glimpse behind the scenes of her video work. Read the stories about how the five videos for her latest EP, "In Awe Of Insignificance," came together.
Find all videos in our playlist or watch "Sad Chick" below:
Sad Chick
This was the first video we made, all the way back in December 2020. Looking back on it, now that I've made all these other videos, it seems kind of crazy. It was definitely a big peak in the pandemic so we couldn't have a big crew or anything – we made this with four people, including myself. I'm lucky to have a great video team within my core little circle – I have a DP living in my driveway and my roommate's boyfriend is a producer, so we were able to conceptualize this all together without having to leave the house. My friend & frequent collaborator Chanel Samson was living in a warehouse in Boyle Heights at the time and there was a side room we were able to set up in.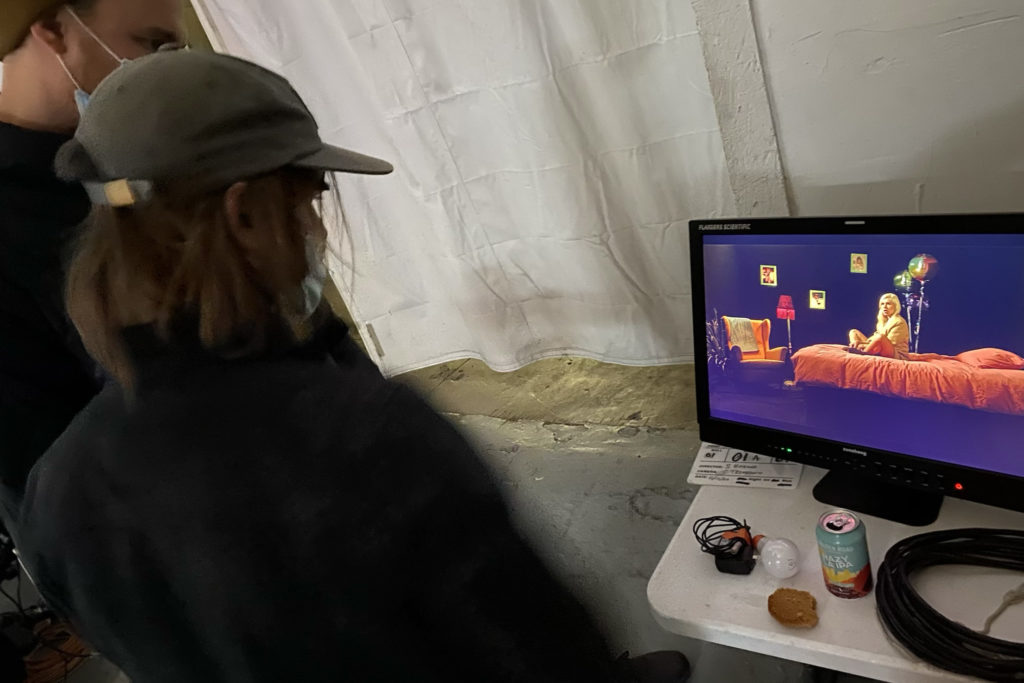 And then for the outdoor shots, we just drove around east LA finding cool spots we knew of. I had recently been to the Greek Bowl at Occidental College while on a walk with my boyfriend and thought it would be a really cool place to shoot a video. But we had to sneak in cause we didn't have permits or anything. So we went there at like 2AM and timed it so that we entered the campus right after the security guards made their rounds. And then once we were in, nobody came into the actual amphitheatre to find us out. It was a freezing night in December and we literally shot until the sun came up – the opening shot of me with the downtown LA skyline behind me is around like 6AM at sunrise at the very end of our shoot. It was insane, and also one of the most fun things I've worked on because it was with my best friends and we had an amazing time getting to be creative when we really weren't able to do much else.
Summerlin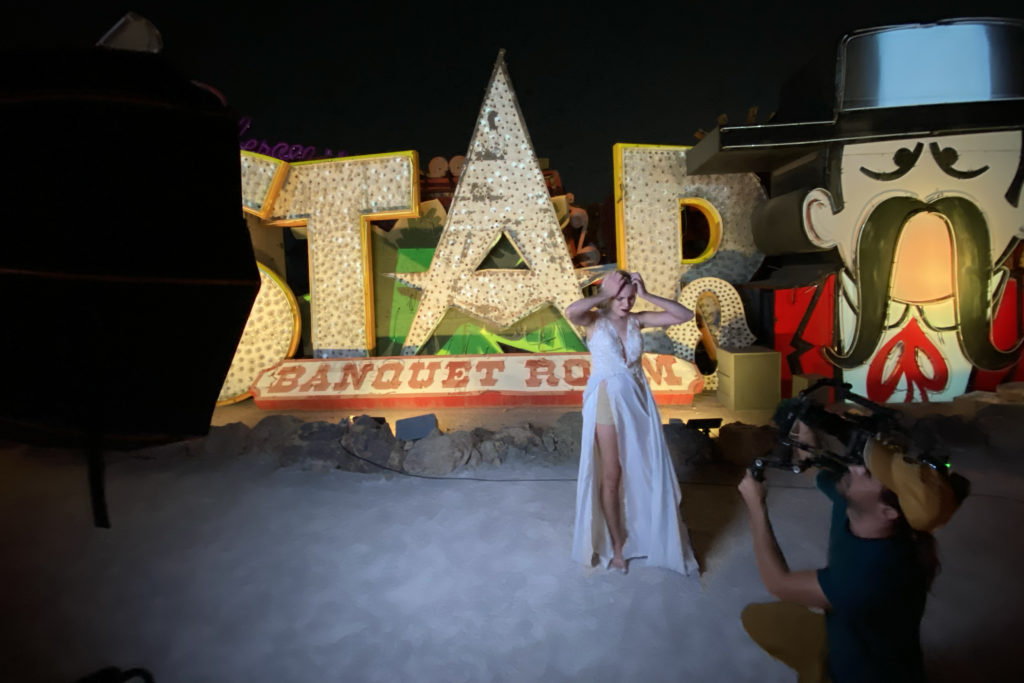 This was the first video that I produced completely by myself. If you've listened to Summerlin, you know that it's about actually being in that town and being in Vegas after a breakup, and the first few lines reference it snowing in Red Rock Canyon National Conservation Area, which is just outside Summerlin. The day I came up with the idea for the song, I had been driving through Red Rock Canyon and I could already see the video in my mind. I knew that I needed to come back here for it. In building out a concept, I had this idea for a Summerlin retreat for people healing from heartbreak. But I also wasn't exactly sure how to set up a resort in the middle of the desert. So I booked a group campsite at Red Rock Canyon. We had been filming around the park all day, so I was in the wedding dress when we checked into the campsite. We just pretended that I was getting married in Vegas when they asked why I was in the dress lol. We got a bit of a stern talking to as we wrapped up our film gear but no one seemed to really care and they didn't bother us while we were filming.
My favorite part of shooting that day was at the Neon Museum. We only had an hour to shoot there so we needed to make sure we had our setup planned. My DP Colin (who also shot Sad Chick) set up a makeshift dolly using a wheelchair that we have at my house from when we were taking care of our neighbor, and Sean (who produced Sad Chick) ran around the museum pushing him in the wheelchair to get our moving shots. It looks so ridiculous but was honestly a great set up for this scene. I was running on about two hours of sleep that day and still can't believe we pulled the whole thing off, on schedule, wrapping by 6PM. One of the only times that's ever happened.
Don't Want You To Love Me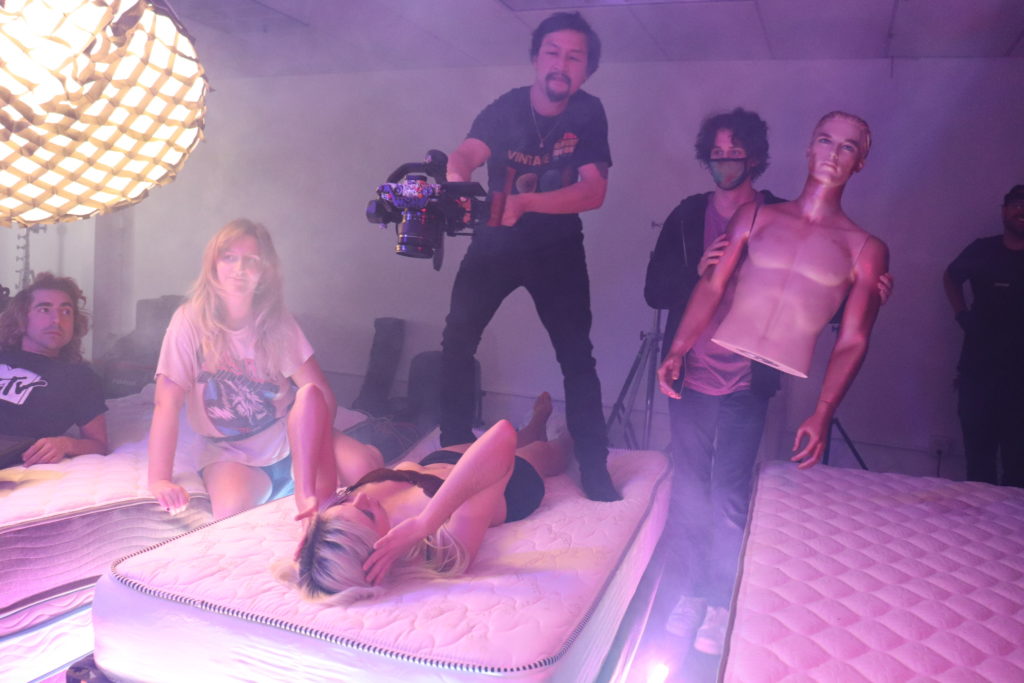 For this video, I collaborated with Chanel Samson again, this time they co-produced it with me and directed it. We both, without discussing it beforehand, had a vision of a mannequin for this video. Maybe there's something about their lifeless beauty that fits in the theme of being unsure about your feelings, but we both somehow landed there. The craziest part is that despite it being one of my higher production value videos, it came together really quickly. We kept putting off planning it because we were both so busy and felt like we had a lot of time, but time moves quickly and before we knew it we only had a week to prepare. Somehow we managed to get a crew together and find a space – and a few mannequins.
I love this video because it really gave me an opportunity to show a more lighthearted side of myself. A lot of my music comes from a darker place, or explores those darker emotions, but that's only a small slice of who I am. And while I love giving a voice to the difficult stuff, I also want to be able to just have fun with my music and my art. I think we did a great job with this concept, both in showcasing some of the emotion behind the song but then also just getting creative and allowing a new narrative to take shape.
My Meds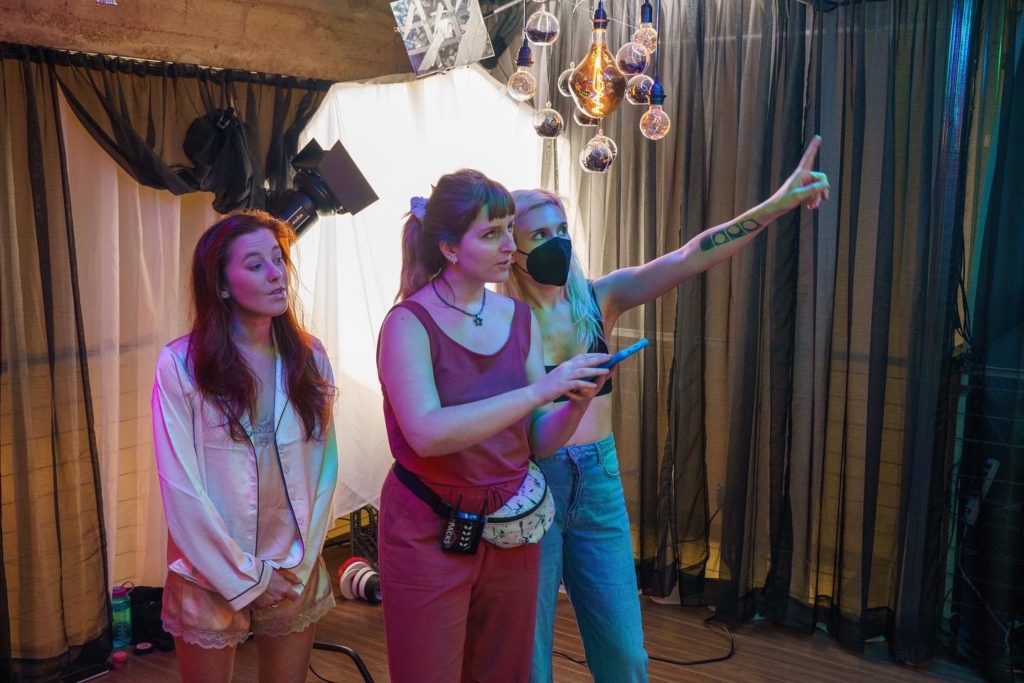 Before I came up with the idea for the My Meds video, I was having a bit of a crisis. I was about to have surgery and didn't have time or a budget to put together a video beforehand. I was trying to brainstorm when the idea of a dance video came to mind. I was a bit hesitant at first because I feel like I've seen a million dance videos. But at the same time, something about this song felt right for this concept. Out of all my songs, this is the most intimate and the most vulnerable. I recorded the vocals in my room, lying on the floor, and I wanted something to visually do the same thing. It was a perfect solution because I was able to produce and direct the video a few days after my surgery, without having to actually be on camera. My amazing dancer friend Charlotte was on board to interpret the song through movement, and the rest of it really came together on its own.
I really wanted to film it in my room, but my room is pretty small so I rented out a loft space and basically just recreated my room there. I brought a bunch of my own stuff from my house, including the candles, clothes, sheets, and tree lamp. It's pretty surreal watching the video now because it looks just like my room, but a little different. We also got a ton of tulle for Charlotte to play with, as an extension of the sheets on the bed – something she could really take with her and wrap around herself throughout the piece. The one downside was that the room was absolutely covered in glitter afterwards and we had to do a deep clean before we left, but it was worth it.
It was also my first time directing someone else which was a really cool experience. I have a background in dance, and I knew what emotions I wanted to convey, so once I really just trusted myself and let myself go it came naturally.
For the Sake of It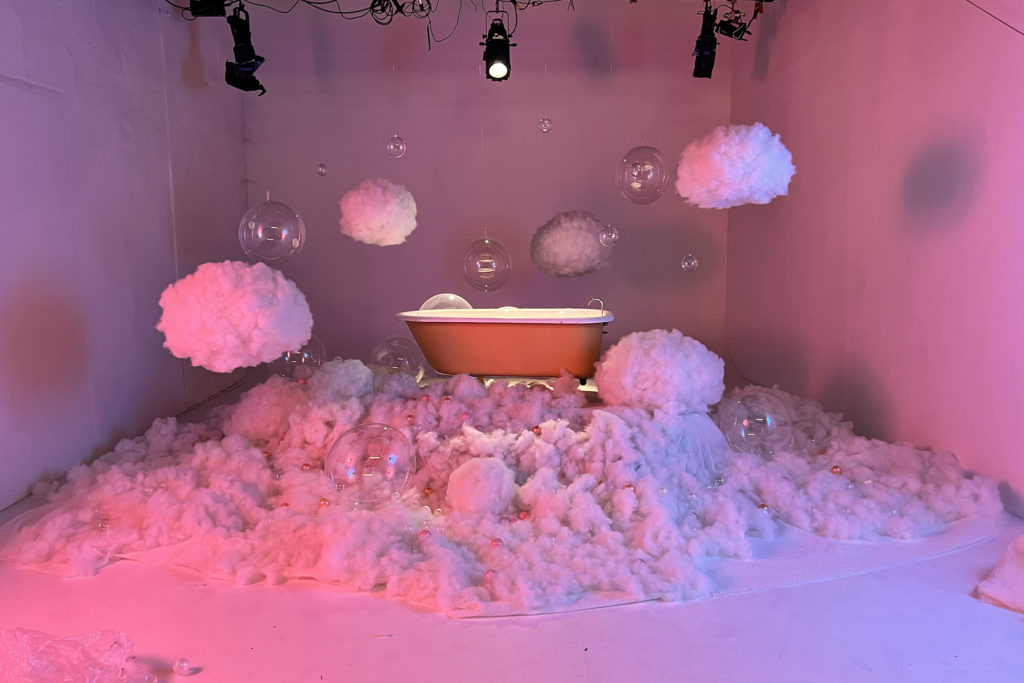 This is probably my most work-intensive and ridiculous video. And when I say "ridiculous", I mean that there are four different sets, four different costumes, projection mapping, lasers, and we did it all on a DIY budget. This was absolutely the most work out of any video I've done, but it was also one of the most fun. I brought a lot of the same team back from the Don't Want You To Love Me video, including Chanel on co-production and directing, and brought in this incredible DP Kenzo Le, who not only shot the video but contributed a lot of stylistic elements and brought his projection mapping set up which totally enhanced each look.
We put a lot of hours into creating the set up. For the cloud room, Chanel and I bought some Chinese lanterns and covered them in Poly-Fil cotton, and then put remote-controlled fairy lights inside them to create the clouds. And we got a roll of poly-fil for the floor and then glued on individual pieces of the cotton to create the cloud look that surrounds the bathtub. We kept laughing at how insane we felt for taking this project on while we were making all of this, but it truly turned out better than I could have hoped for.
Another reason this video is so special to me is that it was another opportunity to show another side of myself. For a long time, I was afraid of going too glam with the looks and getting away from the casual vibe I had for my first few releases. But I love creating elaborate works of art with the costumes, set design, lighting, all of it. And getting to have my friends make custom outfits for me, and transform my look to something completely different, was really special.
I feel like the videos have really become an extension of that self-expression for me. As much as the music is who I am, so are these visuals. The EP wouldn't be complete without these other mediums being another vessel for the songs.